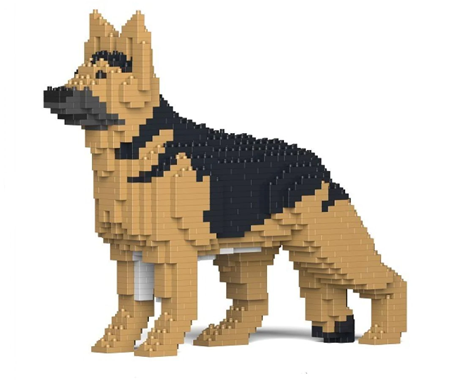 Lego German Shepherd - How To Build A Lego German Shepherd?
LEGO GERMAN SHEPHERD – A COMPLETE GUIDE
From our childhood, so many of us have spent time playing with Legos. Legos made and continue to make our lives a hundred times more enjoyable. The time spent over building a Lego figurine is frustrating at times and enjoyable at other times. Once you complete your Lego figurine, the satisfaction that you get is like no other.
The wide array of shapes that you can mold your Lego pieces into are a delight for someone who is a Lego enthusiast. One such shape into which you can mold your figurine into is a Lego German shepherd.
GERMAN SHEPHERD BUILDING KIT
Yes, you can make your own Lego German shepherd for your Lego world, or just as a small showpiece at your home or as a gift for your loved one.
The problem with building such a detailed sculpture from scratch with no manual or special blocks catered towards it, might make it too big of a challenge for even a skilled hobbyist.
We've got a solution though! The Build 'Em Pets German Shepherd Building Kit.
You can build a German Shepherd easily with a German Shepherd Building kit.
The perfect German Shepherd building kit will consist of the following:
Building Bricks
Eyes
Paws
Screws
Screwdriver
An instruction manual
Other accessories
A good German Shepherd kit can make all the difference. You may think playing with Legos and building Lego figurines is a child's play. But a good German Shepherd Building kit can lure even an adult into spending an enjoyable time building. Make sure that the kit you end up buying boasts of a locking system. A locking system can help you build sturdy figurines. Furthermore, when you tighten the various parts of the dog with screws, you will build a strong and sturdy figure.
You will not have to worry about it toppling over because of sudden movement and then breaking into multiple pieces. If you end up reassembling a broken Lego dog, you may feel irritated and frustrated.
Build 'Em Pets

GERMAN SHEPHERD
The German Shepherd building kit is a great set that can be an excellent combatant against boredom. If you do buy the Build 'Em Pets German Shepherd, you are in for a great time. It is suitable not only for children, but also for adults. It can act as an excellent leisure time activity. What is great about it is that it forces us to think, use our motor neurons, recharge ourselves, and rejuvenate our creativity.
You can decide for yourself if you should go for the Build 'Em Pets German Shepherd. Consider the following pros in your buying decision.
Some of them are as follows:
STURDY LOCKING SYSTEM
Once you build your Build 'Em Pets German Shepherd, you do not have to worry about it suddenly breaking or crumbling into pieces due to a push or breaking apart due to a random movement, etc.
This is because of the sturdy and unique locking system that sets the blocks in place and prevents any loose spaces. It prohibits room for movement so that the figurine you have spent hours on the building does not break.
The locking technology is certainly noteworthy.
AFFORDABILITY AND DURABILITY
The Build 'Em Pets German Shepherd is affordable and will not cause much strain on your budget. The price of a German Shepherd building kit falls in the range of $85 to $170. What you should know about it is that it ranks high on durability and is a unique product you can't find anywhere else. Thus, the cost is worth the benefits it gives.
You could say you have a real pet dog for a lifetime in the Build 'Em Pets German Shepherd.
SIZE AND COLORS
The Build 'Em Pets German Shepherd comes in various colors and sizes. You have the traditional brown and black. Along with this, the German shepherd comes in:
Black & Brown
White
Furthermore, it comes in various sizes. Thus, you have a wide array of options to choose from. Thus, Build 'Em Pets makes sure to cater to everybody's tastes. Choose the dog which you aspire you build and keep as your very own German Shepherd. You can keep this as a decorative piece or give it to someone as a gift.
STIMULATES MOTOR ACTIVITY
It also stimulates motor activity as you use your brain to think and create.
The Build 'Em Pets German Shepherd is a wonderful addition to one's life as a gift, showpiece, toy, or otherwise, an exclusive collectors item! It fulfills various aspirations.
You can find the German Shepherd Building Kit here